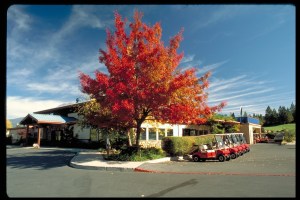 "These chalets have spoiled me.  I cannot stay in a hotel room. The layout and architecture are so beautiful.  R-E-L-A-X-I-N-G atmosphere.  So well integrated with nature." 
Claims Rep, San Leandro, CA

For those with a large group or business getaway in the mountains, take advantage of our two banquet rooms. Our Highland Room seats up to 100 people and our Siskiyou Room seats up to 180 guests. Perfect for a large business function or wedding reception.

Our outdoor reception area accommodates up to 300 guests and allows for the beauty of Mt. Shasta as your backdrop. The quality of our service will exceed your expectations.

"Excellent place for seminars.  Staff is professional and polite.  Thank you." 
Deputy, Calveras, CA
Group Reservations
Make Mount Shasta Resort the destination for your group's getaway!

Panoramic views and refreshing atmosphere naturally enhance your conferences, seminars, and business meetings. Group lodging can be arranged by a single person who is responsible for planning and securing reservations for corporations, governmental agencies or qualifying golf groups. Criteria for individual groups vary with the size of the group and the type of function preferred. Mount Shasta Resort is a small resort with a limited number of accommodations, making it the perfect place for a more intimate setting. To ensure your lodging needs, early planning is recommended.

Golf Group Packages are available annually from May through October. A group golf package must be planned and secured by a single person and involve twelve (12) or more golfers. The number of nights lodging, the number of days golfing and the occupancy of the lodging unit determines the specific package.

Rates and amenities vary with individual packages.
Free Wi-Fi in Clubhouse and all Lodging Rooms
| | |
| --- | --- |
| Birdie Package: | Eagle Package: |
| Lodging | Lodging |
| Green Fees | Green Fees |
| Cart Seat | Cart Seat |
| Range Balls | Range Balls |
| Gift Package | Gift Package |
| Snack Bar Lunch | Snack Bar Lunch |
| | Club Storage |
| | Replay Round Each Day |
| | |

For banquet room information and rates, please click here.

Contact Mount Shasta Resort Group Reservations at 1-800-958-3363